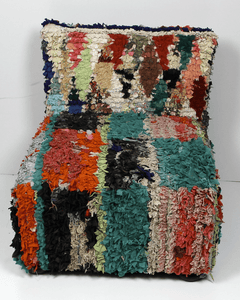 We have a new collection of furniture and furnishings using Vintage Moroccan Boucherouite rugs.
Boucherouite Rugs are mostly made of recycled Cottons. With an interesting history, these 'Rag Rugs' were first made in 1960s Morocco as populations moved away from agricultural occupations and farmed rug-making materials like wool and cotton became more scarce. Berber rugs have since been created using all sorts of found fibers like the synthetics lurex and nylon. Traditional patterns paired with the vibrant colors in these materials makes for some stunning contemporary rugs. The perfect sustainable, individual storytelling rug.
Contact us to see more options
We keep the frames in stock You choose the Kilim. Your Armchair will be ready in three to four weeks Contact us to have a look at the Kilims available

We can customize sizes , fillings and leg styles

We generally keep one of them in stock which you can try and see the other kilim options .

When we finalise all details of the order we get to work. Depending how busy we are, we can finish the sofas in generally 3 to 4 weeks.